Modular Origami Polyhedra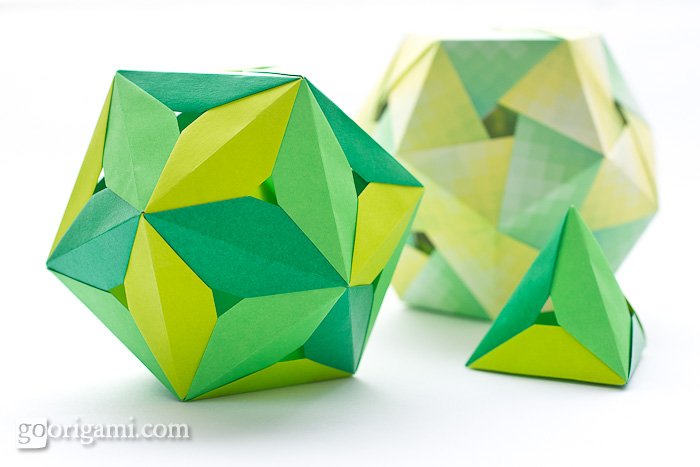 When I just started doing modular origami, I was mostly attracted to floral designs, all sort of curls, petals and frills. And I still love all that, but somewhere along the way I developed an interest in more straight geometrical models too – polyhedrons of all kinds and shapes.
And when I think of origami polyhedrons, two books in particular come to mind – Unit Origami Essence and Unit Origami Wonderland by Tomoko Fuse. I have already folded plenty of models from the first book, but only now I started to study the second one. These are models I found there and I'm surely going to fold something else from this book soon!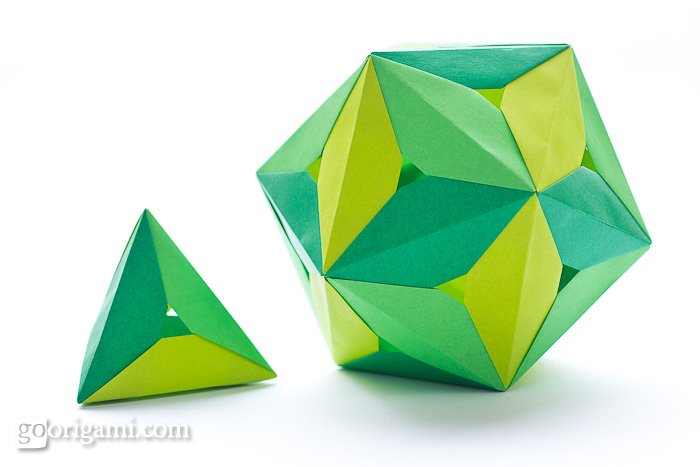 | | |
| --- | --- |
| Name: | Origami Polyhedra (Tetrahedron, Icosahedron) |
| Designer: | Tomoko Fuse |
| Units: | 6 / 30 |
| Paper ratio: | square |
| Assembled with: | no glue |
| Paper size: | 5 cm |
| Model size: | ~ 4.5 / 8 cm |
| Paper: | Kami (TOYO, Japan) |
| Diagram: | Unit Origami Wonderland by Tomoko Fuse, p. 90 |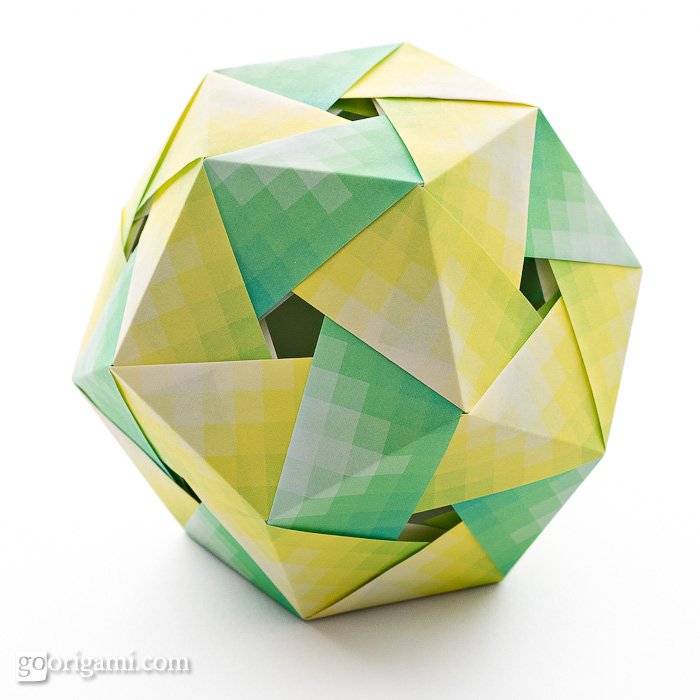 | | |
| --- | --- |
| Name: | Origami Dodecahedron |
| Designer: | Tomoko Fuse |
| Units: | 30 |
| Paper ratio: | square |
| Assembled with: | no glue |
| Paper size: | 7.5 cm |
| Model size: | ~ 8.5 cm |
| Paper: | Harmony paper (Grimmhobby, Japan) |
| Diagram: | Unit Origami Wonderland by Tomoko Fuse, p. 58 |
Tags: Geometric, ISBN:9784817081650, Kusudama, Polyhedra, Tomoko Fuse